A Short History of Charity Activities of GENESIS
The first provision of medical help by GENESIS started within the framework of "Doctors on Wheels" in 1996 (funded by: Swiss Agency for Development and Cooperation, Division of Humanitarian Aid and Swiss Disaster Relief Unit) providing out-reach medical consultations and specialised medical aid to different orphanages of east Georgia.
In 1996-1998 GENESIS has been supporting groups of handicapped orphans suffering from epilepsy and congenital skeleton abnormalities (from Akhalkalaki orphanage in Kaspi).
From 1998 GENESIS started setting up Charity Clinic for children lacking parental care. In October of 2001 by the support of Diakonisches Werk from Germany, Swiss organisation - Kirchgemeinde Audersihl and numerous in-kind contributions of medical equipment and consumable from Swiss citizens, the outpatient Charity Clinic of GENESIS was open in Didube district of Tbilisi to provide free of charge healthcare services to orphans from childcare institutions and to street children.
The Target/Focus Group for the Charity Activities (period from 1996 till 2010 year):
The number of children living at shelters and orphanages of Georgia was approximately 5,500 all over Georgia. 2,500 children were estimated to live and work under open sky. The GENESIS Association provided 1000 children leaving at nine different shelters and orphanages and in the streets with regular medical care and treatment. In addition, GENESIS supported 236 children with periodic medical and humanitarian aid.
Current Partner Child-Care Institutions of GENESIS:
Orphanage No. 1 in Didube district of Tbilisi;
Children's House in Akhalgori, Shida Khartli region;
Specialised Boarding School in Bodbe, Sighnaghi, in Khakheti region;
Children's House in Aspindza, Samtskhe-Javakheti region.
Street Children's Shelters/Social Rehabilitation centres:
Beghurebi, run by the "Child & Environment" NGO in Tbilisi;
Day-time Centre, run by the "Child & Environment" NGO in Tbilisi;
Momavlis Sakhli ("House of Future"), Tbilisi;
Satnoeba, Tbilisi;
Lampioni, Tbilisi.
The Charity Healthcare Activities Provided by GENESIS
From October, 2001 till 2010, on behalf of the children lacking parental care GENESIS staff organised:
Medical Consultations - 7551;
Laboratory Investigations - 3815;
Instrumental Investigations - 1019;
Accomplished Treatments - 1447;
Planned Surgical Operations - 34.
Types of Regular Charity Healthcare Activities of GENESIS:
Health Rehabilitation Programme for children from targeted ophanages and shelters includes:
On-Site/Out-Reach Comprehensive Medical Screening Examinations by group of consultant doctors from GENESIS and from other medical institutions;
Follow-up Out-patient Medical Services provided by the GENESIS Charity Clinic for those groups of children who are brought to Tbilisi for follow-up investigations;
Hospital Investigations and Treatment obtained at other clinics/healthcare institutions-organised by GENESIS for the children who need deeper investigations or in-hospital treatment;
Giving final medical recommendations, securing necessary treatment and provision of necessary medicines;
Reinvestigation of children for treatment effect assessment.
The costs of all these activities were paid by GENESIS
Preventive-diagnostic screening of children's health
In 2003-2005 GENESIS organised Preventive Diagnostic Screening Investigations on existence of AIDS, STD, Hepatities B and C for street children and orphans from Bodbe, Child&Environment, Satnoeba and Lampioni child-care institutions (140 children).
In 2005 with GENESIS project framework, over 500 children from four orphanages/shelters have been screened for possible existance of Tuberculosis by a Head TB Doctor of Georgia T. Gvasalia.
Daily Medical Aid provided by Charity Clinic of GENESIS to Children living and working in the streets and children from different shelters and orphanages from 2001 till 2010 (1000 children)
Street children and institutionalised orphans addressed GENESIS Clinic in Tbilisi on daily basis individually or in small groups with emergency or common health problems. GENESIS Clinic was capable to provide these children with GP's and Gynecologist's consultations, Surgical and Emergency aid and diagnostic investigations.
Health Education Trainings/Seminars for orphans and their carers and for school children
Periodic Health Education on-site seminars are carried out at the shelters, orphanages, ordinary schools or at GENESIS office and cover the following health topics (period 2001 till 2010):
First Medical Aid;
Sexually Transmitted Diseases Birth Control;
HIV/AIDS;
Alcohol and Drug addiction;
Skin Diseases and necessary preventive hygiene;
Physical Exercises for children with Abnormalities of Skeleton;
How to avoid water-born diseases and Diarrhoea;
Acute viral infections of upper respiratory tract - prevention and primary management.
Charity medical services to other vulnerable groups of communities (period 2001 till 2010)
Through its three Primary Health Centers GENESIS had been providing free-of-charge medical consultations and investigations to those families which had four or more children and were also classified as being poor.
Recreation Actions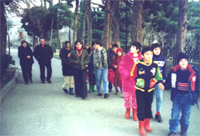 With the involvement of GENESIS, 30 children from the city shelter Lampioni and 35 orphans from Akhalgori Orphanage were taken for recreation summer holidays to Manglisi (40 km from Tbilisi) Sanatorium 2003 and 2004. Being under the continuous stress, facing the irrational nutrition and cold/damp living conditions these children were quite often ill with different infections of respiratory and genitourinary systems. The resort therapy obviously increased their resistance to the environmental factors and decreased their annual morbidity rate.
Non-Healthcare Charity Support provided to orphanages and shelters of Georgia by GENESIS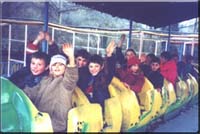 Raising awareness and Entertainment events
As a finalising part of the charity health rehabilitation programmes for the orphans from the rural institutions, GENESIS arranged city tours in Tbilisi , taking them to the zoo, city parks, museums to see the things which they have only heard about
Humanitarian support from/through GENESIS
Periodically, GENESIS channels Foreign Humanitarian Aid/ in-kind contribution to its charity focus group.
In 1995-1997, GENESIS was distributing and monitoring consumption of vaccines and antitoxins for Diphteria (during the outbreak of the disease in the country); Diatery food for children suffering from phenilketonuria; Medical gypsum for whole traumatological and orthopedic service system in the country.
In 2003, with the help of the Lions Clubs in Basel and Spiez and Swiss-Baltic Relief Committee, GENESIS distributed warm winter "BALLY" footwear and winter clothes to target orphanages and shelters (900 children).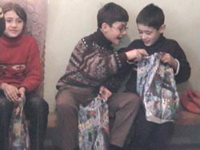 In 2004-2005, with the involvement of a Georgian lady Lali Bejanishvili, currently living in Austria, a group of Austrian citizens funded GENESIS to: a) purchase and distribute presents for the New Year celebrations (toys, warm sleepers and sweets) for 101 children living at two city shelters of Tbilisi: "Satnoeba" and "Lampioni", b) supply the children of Aspindza orphanage with school textbooks.
Improving living conditions of Orphans
To improve children's living conditions GENESIS channels/coordinates repair, furnishing, heating, water sanitation projects of the orphanages (in Akhalgori, Lampioni and Satnoeba childrens' houses).
Whith the support of different Swiss citizens and the Lions Clubs members, GENESIS completed refurnishing of Lampioni Shelter in Tbilisi.
As its' 10 years universary event GENESIS had purchased an apartment for three orphans from Aspindza orphanage and together with MoEducation organised their reintegration process.
Minor Income Generation Projects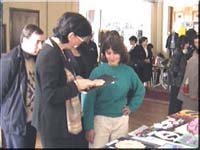 Many of the orphanages and shelters already have small workshops often with incomplete machinery and tools for acquiring/developing vocational skills. GENESIS contributed sawing and embroidery material, embroidery design books, paints and textile to the shelters and orphanages (Aspindza, Lampioni, Momavlis Sakhli) for the production of hand-made items.
To motivate children to keep acquiring different vocational skills (in tailoring, carpentry, batic,painting, embroidery, etc) and to raise the awareness of the officials and the government on the needs of these children, in April of 2003, GENESIS organised an Exhibition/ Trade Fair of Hand-Made Goods in the hall of The Parliament of Georgia. Eight special institutions for children lacking parental care were represented at the fare. The income generated at the fare was used for the individual needs of the children and for their workshops.
The same type of the Exhibition was organised by GENESIS for its 10 years universary, where nine child-care institutions presented and sold children's hand-made items.
Chilrens's Rights Semenars/dialogues
There are several cases of violation of the rights of the children lacking parental care including physical and psychological abuse by the parents, gardians, police, teachers, by strangers in the streets.
As a result of nine years healthcare activities of GENESIS it has become inevitable to start raising children's awareness on their human rights.
GENESIS collaborates with the NGO "Article 42 of the Constitution" and its founder Lia Mukhashavria to support GENESIS in educating the children lacking parental care about their Human Rights.
From the end of 2004 the GENESIS Charity Group and Ms. Mukhashavria started regular visits to different shelters and orphanages of Tbilisi. 8 institutions have been visited until October 2005. Seminars and individual dialogues have been carried out during 3-4 hours' visits to each of these institutions for 548 children.
The Human Rights Seminar was provided at the office of GENESIS to 13 "street children" - those who are regularly working and living outdoors.
GENESIS closely collaborated with the Ministry of Education and Sience of Georgia for more effective implementation of its charity mission regarding children lacking parental care.